Welcome to Tours of the City With Justin Ferate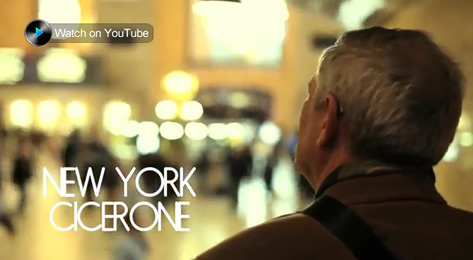 Justin Ferate in
New York Cicerone
(4 min.)
Film by Peter Crosby of Show Love -
showloveworld.com
Internationally acclaimed Tour Guide Justin Ferate has earned a reputation for his informative, exciting, and entertaining New York City Walking Tours, Limousine Tours, and Bus Tours. As a noted Guide and Lecturer for over 25 years, Mr. Ferate was hired by the City of New York to create the official NYC Tour Guide Licensing Examination.
Through his stimulating and knowledgeable commentary Justin reveals hidden and lesser-known sides of the New York City we know and love. Discover quirky aspects of New York that surprise and delight even "dyed-in-the-wool" New Yorkers.
You can hire Justin to conduct a private Motorcoach Tour, Walking Tour, or Slide Presentation for your group. Corporate clients, corporate guests, organizations and even family functions have all enjoyed Justin's keen insight and entertaining commentary. For some tour ideas visit our Custom Private Tours page.
Justin Ferate??s regularly scheduled New York City Walking Tours are also very popular. With an emphasis on lesser-known and often surprising aspects of New York City, these publicly available tours will delight both New Yorkers and visitors alike. Visit the Tour Schedule for more information about upcoming tours.
In a bid to make super air jordan more consumer-focused, retailers are beginning to cotton on to the cheap nike trainers selling clothes and accessories immediately after a runway show. Live events can feel unpredictable, but when you break them down, you get the same elements in a variety of combinations. Award shows have a few basic occurrences: winners, speeches, fashion, replique montres cartier and bad jokes. Not a follower of trends, Pearson views the clothes she makes as more enduring than trend-lead, as sculptures, ways of decorating and shaping the body. Burberry is making its latest collection available for purchase replique montres immediately after its appearance on the runway at this week, and the brand is using chatbots to make it easier for consumers to purchase those items right away, according to a Wired report.